Is content still king? What is the age of the customer? What does the future hold for us as we plan, strategise and create content?
We heard from 4 of the very best experienced content creators from within the BIMA community at an event in Brighton on 3rd July. The Breakfast briefing was hosted by Pragmatic in their event space in their Brighton offices. The packed room of guests helped themselves to delicious food from breakfast boxes, thanks to Gail's Bakery and sat down to enjoy 4 short presentations followed by questions from our host and from the audience.
Gina Roughan, Director of Content Services for award winning customer experience digital agency Zone, a Cognizant Digital Business kicked off the briefing with an engaging and personal presentation explaining we are in the 'Age of the Customer' and her disappointment when brands reach out with ads that clearly have not been targeted to her. The single biggest piece of content they created was for Guide Dogs, with the voice of a real user, and a beautifully designed and engaging video (you can see here)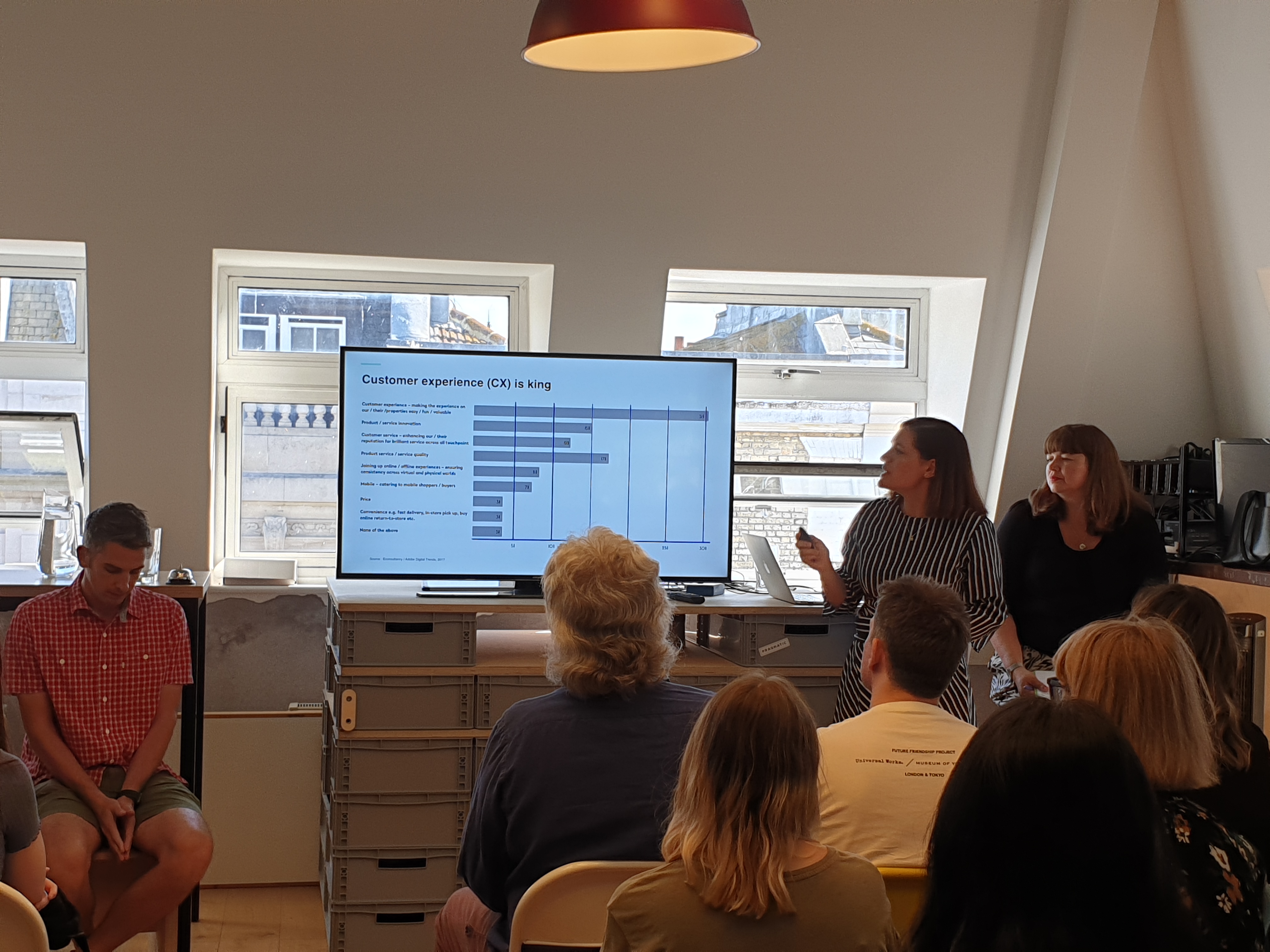 Gina Roughan, Director of Content Services, Zone, a Cognizant Digital Business
Tom Hall, Founder (and Brother) at creative content agency Contented Brothers followed Gina and brought some key points to the conversation his starting point is that the customer is exhausted and that video could be a solution to this.
1: The (re)discovery of quality. Hollywood and silicon valley are investing heavily in new talent
2: Short form content
3: Personalisation – you can pay to get celebrities to record personalised messages
Tom Hall, Founder, Creative Content Agency, Contented Brothers
Matt Roberts Digital Designer at Sightsavers, NGO working in developing countries to treat and prevent avoidable blindness (BIMA100) Matt's experience spans creative disciplines including branding, UI/UX design, illustration, animation and art direction, and he now focuses on accessible and inclusive design, for which he is a keen advocate.
Matt brought his thoughts about content from an accessibility perspective. His presentation was visually beautiful and really challenged how we put together messages especially a deck for presentation. Clear and simple, with great use of colour. Interestingly Matt is colour blind (red/green) and this brings a unique asset to his design work.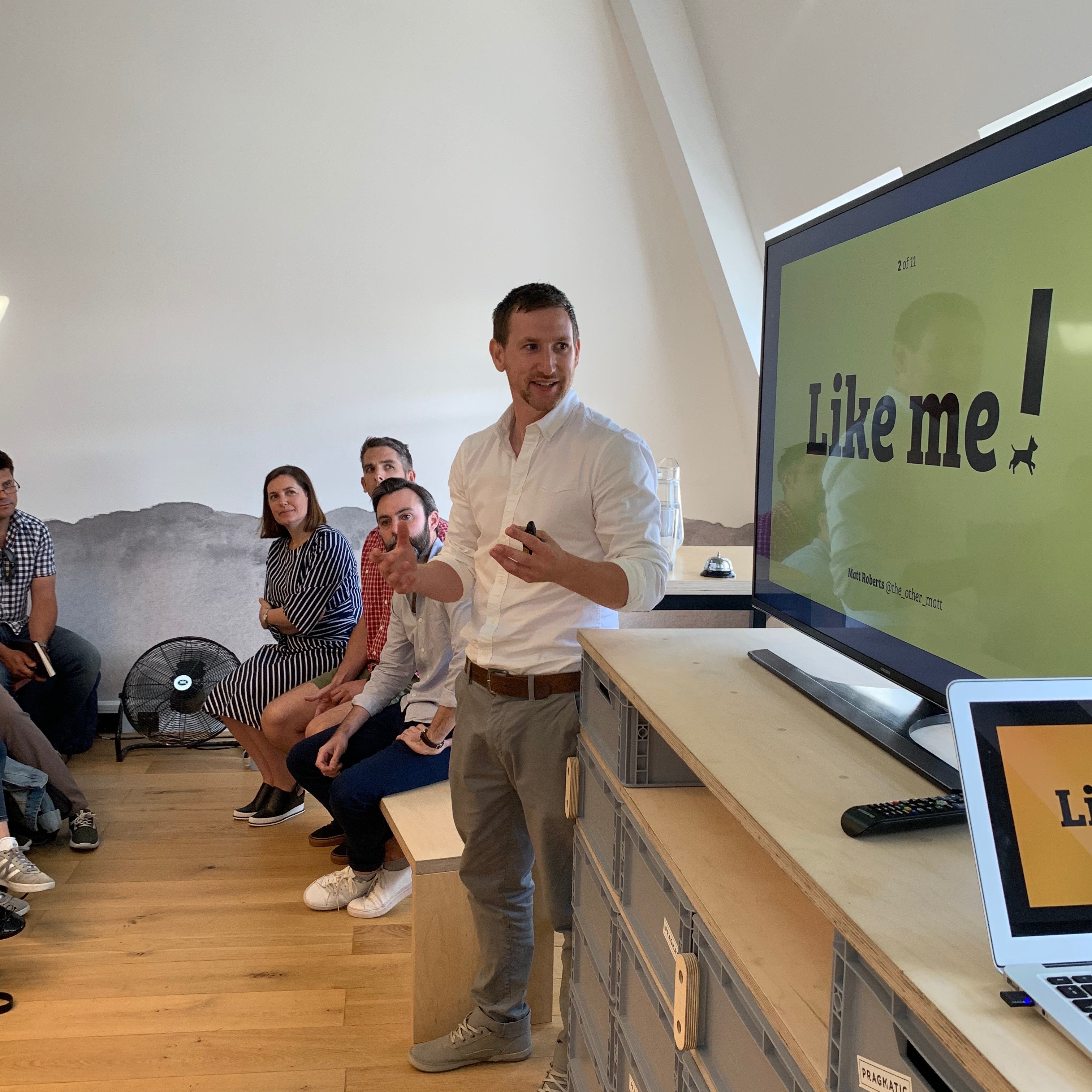 Matt Roberts, Digital Designer, Sightsavers
David Lockie, Founder and CEO of Pragmatic, a 50 person digital agency based in Brighton. (BIMA100) David's presentation was futuristic, and the questions kept coming back to one of the shared videos of dystopian content bombardment. We debated if we have a choice over how content is going to accessed by us as consumers.
As the questions continued, Gina kept bringing the conversation back around to relevance. Is the content relevant? Tom talked about a moment in his office recently where some of the team had a 'shared water cooler moment' talking about the latest series of Killing Eve. [don't fear there are no spoilers here] "Can you believe?" "Did you see what she did?" Which was a beautiful crossover point between the content and the group who had shared it together.
We're sure this is a conversation that is going to rumble.  Huge thanks to all our speakers, Gina, Tom, Matt & David, Pragmatic for hosting, and for each of our attendees for contributing to an excellent conversation around the Future of Content.  
Here's what some of our attendees thought of the briefing: 
'Thought provoking presentations, we can't stop talking about it'
'Wonderful way to start the day, thanks for having us'