BIMA has joined forces with Kemp Little LLP to look at the legal realities of harassment. In the first of our posts, we explored the practicalities and legalities of harassment from the perspective of employees. This time, we're looking at it from a management perspective. If someone approaches you with an allegation about someone in your workplace (or even a client) what should you do, and how should you handle it?
Once again, we'd like to thank Kathryn Dooks, Employment Partner at Kemp Little, and our Diversity team, whose BIMA presentation provides the legal backdrop to this guide.
First, and just in case you haven't read the first post in the series, let's examine the most fundamental question of all…
What is harassment?
Employers have a duty of care to provide employees with a safe place of work, which includes protecting them against harassment.
Harassment is unwanted conduct which has the purpose or effect of either:
• Violating an employee's dignity; or
• Creating an intimidating, hostile, degrading, humiliating or offensive environment
Behaviour doesn't have to be ongoing or long-standing to be considered harassment – it could be a one-off incident.
Employers will be liable for harassment which occurs in the workplace unless the company can show they took "reasonable steps" to prevent it (see below).
It could still be harassment, even if:
• The employee hasn't made the perpetrator aware that the conduct is unwanted (the employee doesn't have to tell the perpetrator)
• The employee has put up with the conduct for years or even joined in with the 'banter'
• Comments aren't directed at the employee raising the complaint, as long as that employee is offended by the behaviour
Who decides if it's harassment?
The legal position here (and therefore the position a manager should take) is to assess the situation from the employee's viewpoint, with a presumption that the conduct was unwanted unless it can be proved otherwise.
Any investigation should start with the employee's perception, then look at the other circumstances in the case, then ask whether it is reasonable for the conduct to have that effect. It does not matter that the person whose conduct is in question didn't intend their words/actions to offend, humiliate etc.
Client harassment
Not all harassment comes from within the workplace. Employers can still be liable if their reaction to a client's harassment of an employee is poor or unsupportive.
Reasonable steps to prevent harassment
Employers will be liable for harassment which occurs in the workplace unless the company can show they took "reasonable steps" to prevent it. As a minimum this involves having:
• an anti-harassment policy
 Which is communicated to staff; and
•  effectively implemented, monitored and reviewed; and
• a procedure for reporting harassment under which
• victims are protected; and
• action is taken if harassment occurs.
What should an anti-harassment policy include?
• a commitment to a zero-tolerance approach to sexual harassment
• a statement that sexual harassment is unlawful
• a clear definition of sexual harassment with relevant examples
• defined reporting channels for staff who wish to report harassment
• a range of approaches for dealing with harassment from informal resolution to formal disciplinary process
• a range of appropriate consequences and sanctions if harassment occurs
• a prohibition on victimisation or retaliation against a complainant
• information about support and advice services.
What does effective implementation look like?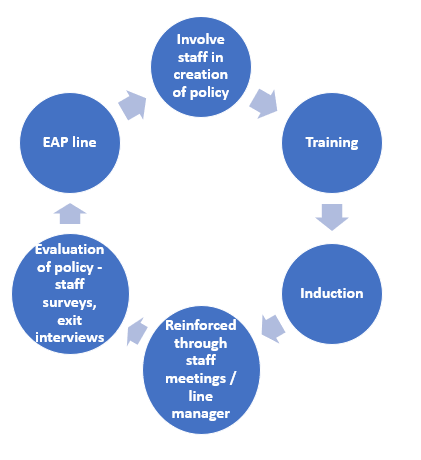 Handling a complaint
As a line manager, it can be difficult to know how to respond when put on the spot by an employee raising an allegation of sexual harassment.
The most important thing is to acknowledge that you are taking it seriously and that you will take time to consider it and come back to the employee.
In addition, you should:
• obtain a full description of what happened;
• ask the employee what outcome they would like to achieve;
• ask the employee whether they have had the opportunity to resolve it formally and would like to try to do so.
Where possible, it's always better to encourage staff to resolve minor issues informally with the perpetrator first. The perpetrator may not realise that their conduct is unwanted. If the employee feels unable to do that themselves, they could ask a colleague, line manager or HR to raise the matter informally with the perpetrator on their behalf.
Going formal
If an informal approach doesn't resolve the issue or the matter is sufficiently serious, employees may raise a formal grievance. This should follow the company's formal grievance procedure or, if there is none, the ACAS code of practice on disciplinaries and grievances. The basic process is as follows: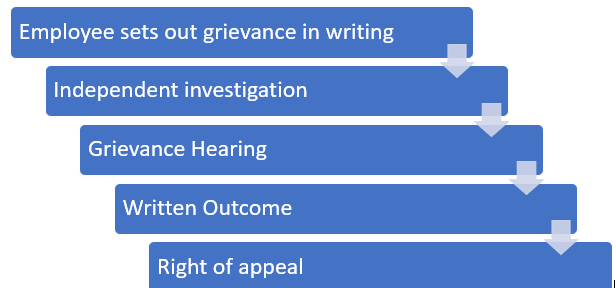 Employers should address any complaint in a fair and timely manner and ensure confidentiality for the employees involved so far as possible. Employers should consider offering formal support to the complainant (including counselling) in serious cases and give a guarantee that the complainant won't be disadvantaged by raising the complaint.
Taking legal action
If the employee is dissatisfied with the outcome of the grievance they may take legal action. The usual deadline for an employee to bring a claim against their employer for harassment is three months from the date of the act complained of. However, this can be extended in some circumstances.
Employees no longer have to pay a fee to bring an Employment Tribunal claim. The employee could bring an Employment Tribunal claim whilst they remain in work and there's no minimum length of service requirement. However, the tribunal will expect the employee to have tried to resolve the issue with the company first.
Alternatively, and if the behaviour / the company's reaction to the employee's complaint is sufficiently serious, the employee may be able to resign and claim constructive unfair dismissal.
Prevention rather than cure
There are a number of measures an employer can consider in order to try to prevent harassment from occurring within the workplace, in addition to the "reasonable steps" outlined above. These include:
• Setting the tone from the top
• Top-down zero tolerance culture
• (Vocal) support from senior executives and line managers
• Creating an environment where people feel able to raise issues (1-2-1s/mentoring)
• Considering risk areas: business travel, alcohol-fuelled conferences, lone working (customer facing)
• Monitoring the impact of the policy (e.g grievance data/exit interviews/staff attitude surveys)
• Reviewing procedures
• Training for staff, including refreshers – specialist training for specialist roles, including line managers
Further advice
Employers can find advice and practical help in dealing with harassment using the following resources:
BIMA Diversity Committee
 ACAS  Tel: 0300 123 1100
Equality Advisory Service Tel: 0808 800 0082
To explore the legalities of harassment from the employee's perspective, take a look here.