Delivering digital transformation at scale can be challenging. As organisations overhaul the way they build digital solutions and the software needed to meet growing customers' demands, cracks can appear. However, with a focus on leveraging agile delivery, paired with a data-backed understanding of value that modern digital platforms have to offer, we have seen organisation such as Boots and Vodafone augment their digital infrastructure and and utilise innovative technology to deliver value to their customers at speed and scale.
WHAT STOPS ORGANISATIONS FROM IMPLEMENTING A SCALABLE DIGITAL STRATEGY

MMT Digital's  "Digital Product Delivery 2021: Realise Value at Speed" report will help you gain a granular insight into what medium and large enterprises see as blocks on the road to successful digital transformation at scale.
While nuances exist from sector to sector, our data collected using the industry surveys and brand interviews point to a number of prevailing challenges on the road to building your perfect website, an app, a customer portal, or business operations software that meets your specific business needs, delivers real value to your customer and is fully scalable.
Here's what senior digital leaders shared with us in a survey we conducted for the Report: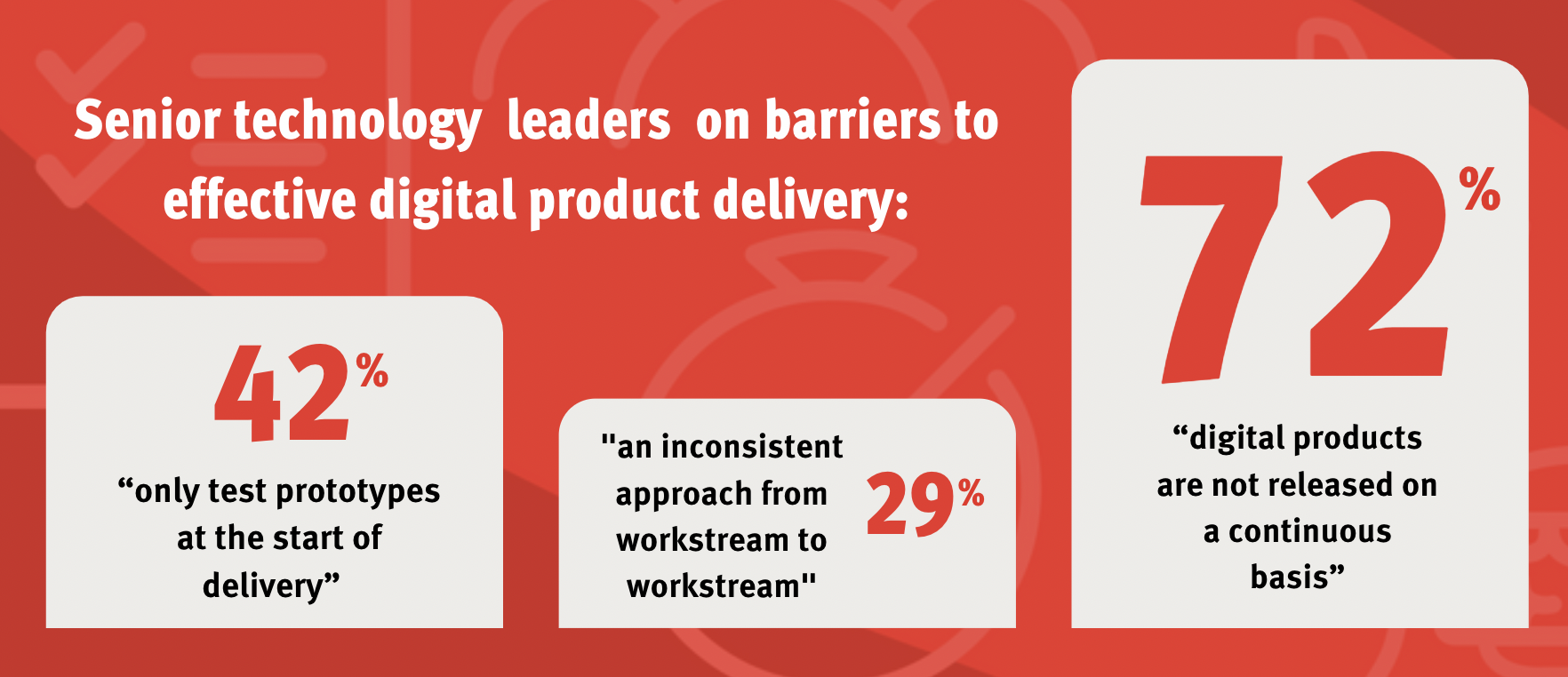 GETTING IT RIGHT: AGILE METHODOLOGIES THAT EMPOWER SOFTWARE ENGINEERING AND DELIVERY TEAMS
The research has confirmed the common pain points and success factors we have experienced firsthand as a digital agency that helps businesess implement agile methodologies and build high performing cross-functional teams of agile developers, engineers, product owners and supporting staff. Our survey found that adopting a sound  agile transformation roadmap not only enhances efficacy of any digital solution, but also accelerates delivery of a web platform, an app or a complex digital infrastructure at speed.  While adopting an agile software development framework requires changing deeply entrenched behaviours, operations, governance, structures and communication channels, the results outweigh the efforts, when done well. 
As OakNorth's Sean Hunter describes, "With agile, we're able to implement faster and organise structures so that individual engineering teams can do what works best for them." 
Upon closer inspection of our digital transformation case studies, we have found the key factors that led agile teams to success were:  

Measuring effectiveness 
Transparency and communication 
Willingness to share 
From sharing test-and-learn findings to actively matching skills and resources to needs within agile development and delivery teams, the ability to move quickly and confidently that comes with a robust agile transformation roadmap  is intrinsically linked to greater commercial success. 

MAKING DIGITAL INNOVATION   CUSTOMER-CENTRIC
As the demand for innovative, customer-centric digital technology grows, the demand for methods that enable the delivery of the digital business solutions grows even faster. Sometimes this can be managed within in-house teams, and sometimes a helping hand may be required.
At MMT Digital, we are supporting organisations on their agile digital transformation journey at various stages and we know that adopting agile methodologies can be challenging. To really make this process work at scale, we have created 3 digital product delivery frameworks (North Star, Compass & Engine) that will help discover value in your digital portfolio, find a clear delivery methodology that works for you and measure results to maximise return on your digital investment.

Sometimes, just getting an understanding of the company's current digital tech stack performance is a great first step. Our Agile Maturity Index (AMI) is a powerful tool that can help with identifying where the challenges and opportunities hide across your digital architecture. It provides exciting opportunities to track, measure and improve an organisation's agile delivery capability, across large-scale software engineering teams. 
Using AMI, organisations such as Boots were able to understand and leverage vital insights on different aspects of their agile digital transformation, such as speed to market, efficacy of output, team culture, technical capabilities and the different perceptions of those capabilities.
To succeed in upscaling their digital architecture, organisations need to harness key metrics such as survey data, sentiment analysis and the attributes available from tools such as the AMI to drive continuous improvement to ensure they stay ahead of the competition and drive a positive ROI from their digital investment.     
Technology leaders armed with deep, data-driven insights can then put a clear figure on value to end user, better measure agility and ultimately deliver real benefit for customers and stakeholders, by leveraging their digital capabilities.  
WOULD YOU LIKE TO LEARN MORE ABOUT THE CURRENT DIGITAL TRANSFORMATION LANDSCAPE?
WOULD YOU LIKE TO FIND OUR MORE ABOUT HOW MMT CAN HELP YOUR ORGANISATION?

 
Business
Data
Development
Strategy
Tech
UX