We all play a role in the process of creating. Whether our role is traditionally considered a creative one or not, we all have our ideas and expertise that can add great value.
Such creative ideas can emerge spontaneously, maybe when in conversation with other members of the team as we bounce ideas to and fro, or perhaps when alone at our desks, earphones in, volume high.
Whatever the case, it is important we acknowledge the role we play and consider how, in a time when we may not be working in the same physical space as our colleagues, we can still work collaboratively with others to feed into the creative process.
In the words of Matt Lee, one of the leading thinkers behind Yoyo's Creativity in confinement report…
To understand how we can make creativity work from home, we need to understand what was making it work well in the office
Collaboration in the office
I joined Yoyo 10 weeks ago. As you'd expect, joining during lockdown has meant I haven't spent a great deal of time in the office. Instead, I have got to know everyone virtually, collaborating through the screen of my laptop.
Though I haven't experienced working in the office in its full glory, I know how much the team loves to be there. The office is designed and organised for collaboration.
The open plan main office means that communication is that bit easier, as discussions can be had and quick questions can be fired across the room. Alternatively, when a few members of the team need a space to brainstorm, away from this environment, they can get away to one of the meeting rooms.
When it comes to collaborative workshops (or any kind of brainstorming), it's normal to see sticky notes flying about as everyone chips in with their ideas. Such workshops are vital in developing relationships with our clients, as we form collective ownership for the ideas that begin to emerge.
The point is, collaboration is essential for the work we do at Yoyo and is bound to be essential for almost every job, regardless of the sector or role. It's a crucial part of the creative process… and also means we are able to get sh*t done, ensuring everyone is on the same page.
Collaboration from home
As the team is so used to collaborating when in the same physical space, they've had to adapt and explore new ways of doing so from afar.
When I first joined, I was introduced to the range of tech and practices that Yoyo use and follow in the virtual world to replicate their creative and collaborative workplace.
The very first platform I was set up on was Slack. This has made communication with the rest of the team so much easier. While email is useful for sharing chunkier bits of information and for communicating with clients, Slack allows for less formal communication with the rest of the team.
Other digital tools like Miro and LucidChart have proved invaluable, as they have replaced the offices' sticky note tasks and whiteboard explanations. Tools like these allow for everyone to chip in with their ideas, which can then be discussed and further explored over our video conference calls.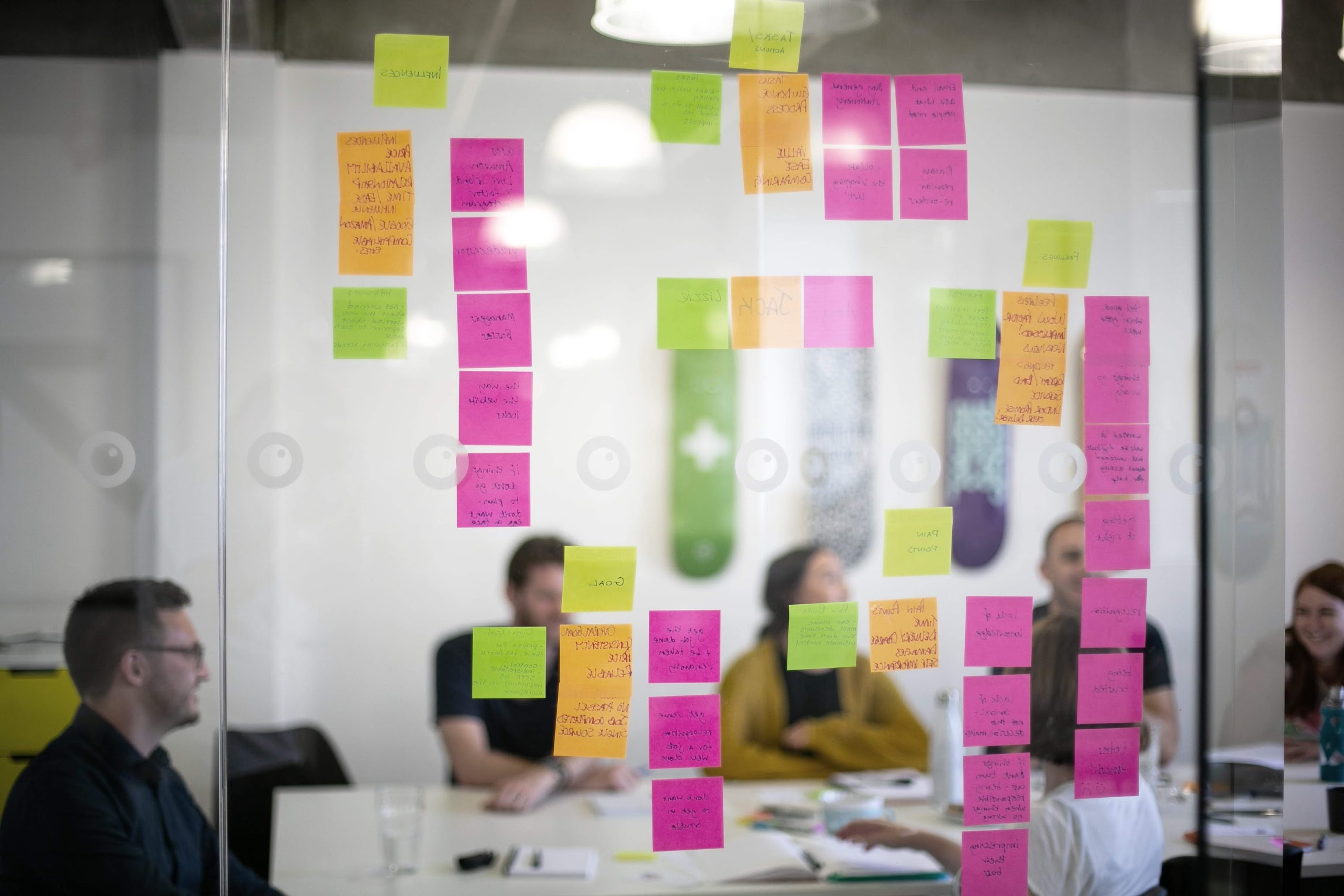 I can't deny that being away from the office doesn't present difficulties and challenges. Nevertheless, we have had to adapt, innovate and get on with it. Collaboration is not just essential, it is inevitable – it is just about finding ways to make this communication, cooperation and teamwork that bit easier.
If we've learnt anything from this time, it's that we can't be sure what is around the corner and what the future of work might look like. Therefore, it is incredibly important that regardless of whether we are in the same physical space or not, we can collaborate well, all feeding into the creative process.
For more, have a read of our Creativity in confinement report or get in touch with the Yoyo team.
Business
Design
Strategy
Tech