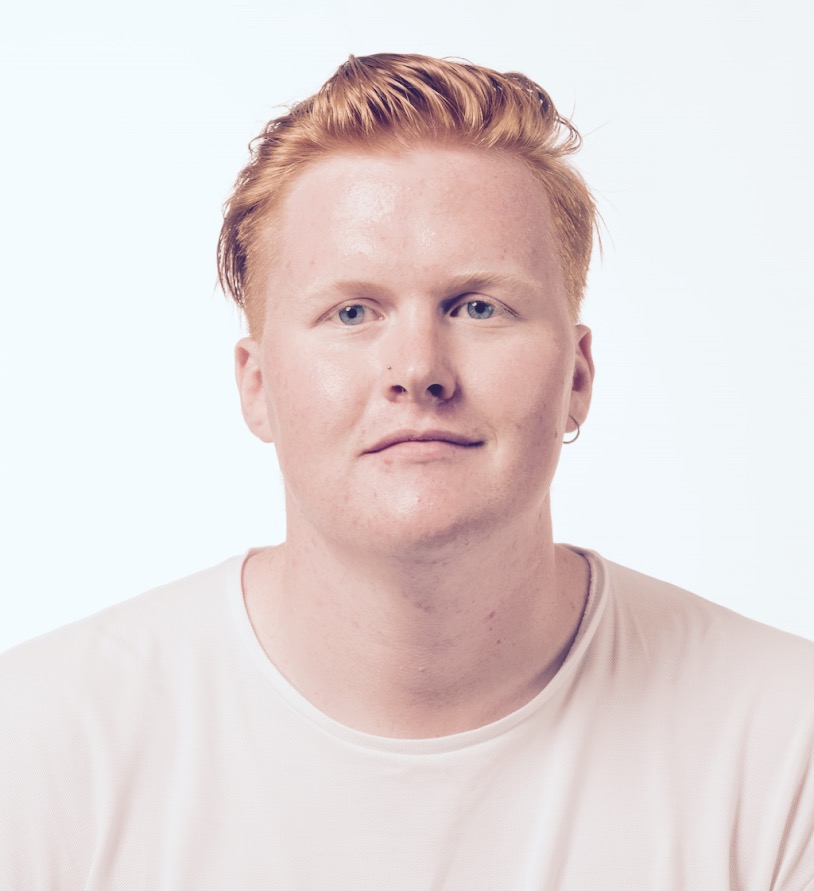 Eddie Allbutt
BIMA/TRC Inspiring Digital Leaders interview with Eddie
I was back in South Block to meet Eddie Allbutt one of the IDL fab five. I am pretty short so Eddie cuts quite an imposing figure until his twinkly smile and warm hello immediately exudes "I am a nice guy" and he really is. Chatting with Eddie was fun, easy and insightful and I noticed as our conversation carried on his responses were concise, honest and without wavering or subterfuge so it felt like we cut to the chase pretty quick on all we discussed. He came across as a human being of easy confidence laced with humility and authenticity. As with all the IDL five he is very hard not to like.
Eddie is Glasgow born and bred, growing up in Anniesland, so carrying out his university studies here was something of an interesting move but we will come on to that. Coming from a big family he feels growing up in Glasgow has definitely defined him, as have the frequent art gallery trips his mum took him and his siblings on as kids. Like Julia he didn't appreciate all the art excursions at the time but loves them now.
Interestingly Eddie has a twin sister and also an older brother and sister (by two years) who are also twins, so you can only imagine what those early gallery trips would have been like for his mum. I ask him the obvious questions about the special twin bond and ESP but he confirms all his siblings have quite polarised characters and have pursued quite different ambitions. He describes himself and his twin sister as born at the same time but yet very different personalities. That said it sounds like they all get on great, and still have a degree of telepathy..
Returning to the art gallery I asked if he had a favourite and the response was "Kelvingrove", a place obviously held dear in the hearts of his family as his grandfather helped fund raise for the renovation. Given the gallery is such a sprawling museum of a wild range of artefacts I wondered what attracted his attention most. Eddie confirmed it was the suits of armour and anything that involved a bit of engineering that drew him in, curious about how they were designed and how they were used. He is also rather partial to a bit of Salvador Dali.
This segued into Eddie's evident interest in human centred design which manifested itself from a young age in tinkering with bikes and "pulling things apart". Eddie considered a career in Architecture but ultimately decided the time and personal investment vs personal and intellectual fulfilment did not quite weigh up for him. This is how he ended up remaining in Glasgow at Glasgow School of Art (GSofA)studying product design. He felt it was the one course that that deep delved in human centred design, proposed thinking about design for the future, and really challenged presumptions and beliefs. He learnt a lot, admitting that sometimes its was a bit overwhelming, and he also saw Glasgow through brand new eyes which was a joy.
In Eddie's final year he was involved in a Cancer care project, carrying out research and data gathering, using his design skills to propose improvements in Cancer care. I got the sense from Eddie that he found this experience pretty profound and deeply enlightening as to how powerful and applied his design learning could be.
Prior to completing his degree Eddie worked briefly as an innovation fellow on The Italian Innovation Programme, working within a multi-disciplinary, international team consulting Italian organisations on their business and design strategy. From there he jumped straight swiftly into the IDL programme so it has been non-stop for Eddie. And what of the IDL programme? How is that panning out?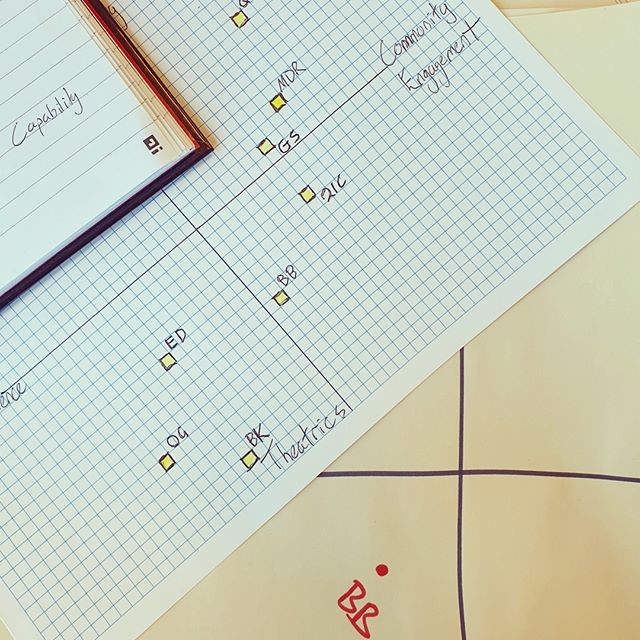 Brand mapping at Front Page
Eddie was lucky enough to meet the wonderful Jamie Jefferson of Equator at GSofA and Jamie recommended he go for the IDL programme. That was endorsement enough for Eddie to give it a go and says he feels "so much better off for having done it". The stuff he knew least about has given a surprising level of enjoyment for Eddie, such as the client services and coding element. It seems most of the fab five have found client services a bit of an eye-opener as it is an area that academic learning does not prepare you for. We laughed about coding being something of a "dark art" which Eddie says he has found pretty challenging but super cool and thoroughly enjoyable.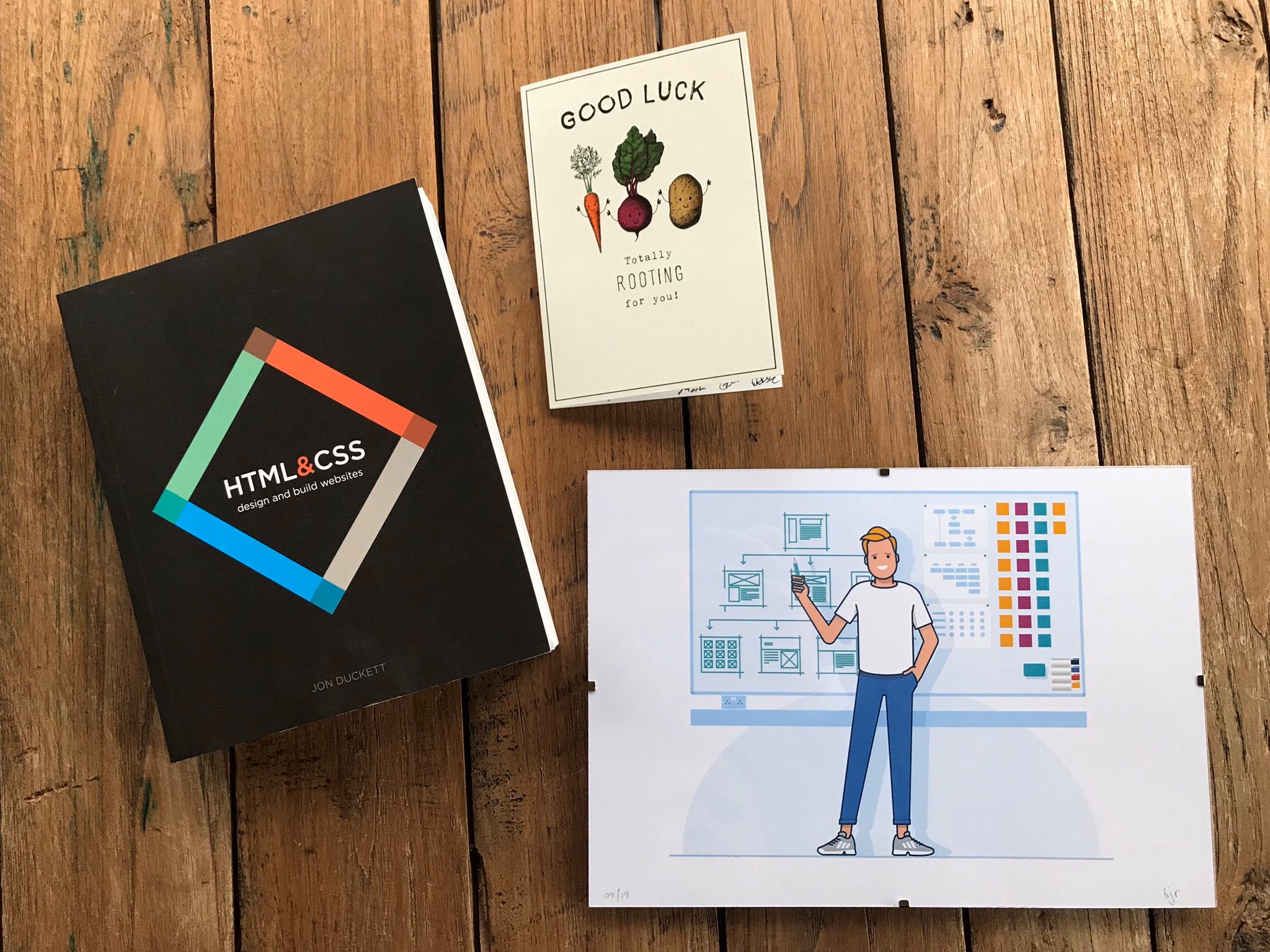 Leaving gifts from Screenmedia
What next for Eddie as someone who describes himself as a human centred designer? I asked if he had started to plan for the next step? Did he feel that time was running out? 
Undoubtedly the programme has flown by but Eddie is pretty sanguine about the immediate future. Firstly he has probably earned a bit of a holiday as it has been non-stop since completing his course. He has thoroughly enjoyed the programme and clearly has a passion for design, but he has also hoovered up all the other skills and experiences offered on the IDL journey. As well as a passionate designer there is a hunger to challenge himself, to build business skills and be a digital leader of the future. There is no doubt it will be exciting to see what Eddie does next.
Find out more about awesome Eddie: