10 ideas for winning new business and marketing yourself during the outbreak and beyond.
You have a choice. You could cancel business as usual and lay low for a month or three. Or you can choose to step up. We're seeing that choice already being made at a product level, with hotels becoming makeshift hospitals and car brands building ventilators.
But it's a choice that clearly exists at a comms and marketing level too. In our latest BIMA Hangouts session, Adam Graham, Founder of Gray, Alex Goat, Livity CEO, Katie Street, Founder of Street Agency, and Hattie Matthews Managing Partner of Karmarama explored the steps you can take to find new business, what you need to be saying to clients, and how you can market yourselves with sentiment and not just for commercial gain.
1.      Keep your ear to the ground
Watch the industry news. Who's moving? Who's hiring? Who needs helping? Who needs saving? The current crisis isn't an invitation to steamroller in and be seen to be taking advantage but, done with integrity, there is opportunity.
2.      Nurture and close your existing leads
Without effort, you can't expect opportunities left dangling when lockdown hit to still be there once the pandemic is done. So here are some ways to close opportunities with some prospective clients and stay in the minds of others:
Acknowledge their fears and concerns
Build trust and rapport
Continue marketing online
Productise offers
Get prospects to commit to a smaller project
Use relevant case studies and testimonials
Be innovative with your pricing strategies
Offer random acts of kindness
Provide value and insights
Have clear transition plans and onboarding processes
3.      Retain existing clients
This could include:
Offering the essentials without 'bells and whistles' at lower cost
Producing something of real benefit to clients for free (e.g. internal comms templates)
Switch your clients' focus from outdoor to online
Helping them support local initiatives
For global brands, switching focus to less affected areas or areas that are exiting lockdown
Remove inappropriate messaging
4.      Grab the low hanging fruit
Upsell where you can. Go through your LinkedIn network and CRM. Revisit past clients and relationships. Revisit lost pitches, key referrals and people you've met at past events.
If prospects aren't engaging, ask why – and consider how you can make it easier for them to sign off on projects.
5.      Target businesses who are thriving right now
The pandemic isn't quite like any other market upheaval, but in a business sense it does share many elements with a typical recession. And in a typical recession, the industries that boom best include:
Discount stores
Essential FMCG goods
Delivery services / Ecommerce
'Sin' industries (e.g. tobacco, alcohol)
Home entertainment
Repairers, maintainers and upgraders of existing products and equipment
Pharma and health
Arts and crafts
Confectionary
Cosmetics
Luxury goods
Contraceptives
Tax services
6.      Let your actions speak for themselves
Since the coronavirus outbreak, we've seen examples great and small, vital and relatively trivial, of brands working to make life easier/healthier/more affordable/more fun for consumers. Brewdog has diversified into hand sanitiser. Aldi has donated surplus Easter eggs. Zara has donated coronavirus masks while Disney+ released Frozen 2 early. When deciding your actions, consider these points:
Be generous
Stay in your lane
Curate utility, don't build it
Empower the experts
Help people help others
Go local
Find the pain points
Invent new traditions
7.      Be helpful…
The recent Kantar Barometer survey may have been consumer-based, but it held plenty of insight for our industry. It asked 25,000 consumers what they wanted from brands right now. The top three comms strategies seem equally appropriate for agencies:
Talking about how the brand is helpful in the new everyday (77%)
Keeping consumers informed about the brand's reaction to the new situation (75%)
Offering a reassuring tone (70%)
8.      …But be mindful
The Kantar survey also found that 75% of respondents agreed brands should not 'exploit' the COVID-19 situation for promotion. In achieving that careful balance of integrity and authenticity consider the following:
Know your role
Keep it real
Listen up
Be reachable
Be calm
Add clarity
Don't boast – but do show benefits
Shift media
Humour appears to split opinion. Some brands have used it very effectively although forty percent of the Kantar sample believed brands should avoid humour. Certainly, brands should tread carefully and consider context.
9.      Be genuine
Helpful only works as a strategy if you mean it. When helpful is just selling in disguise it appears tone deaf or without compassion or empathy for the recipient. More than a few companies have tried to offer insincere empathy with a clunky sales message, and were pilloried in a recent Marketoonist cartoon: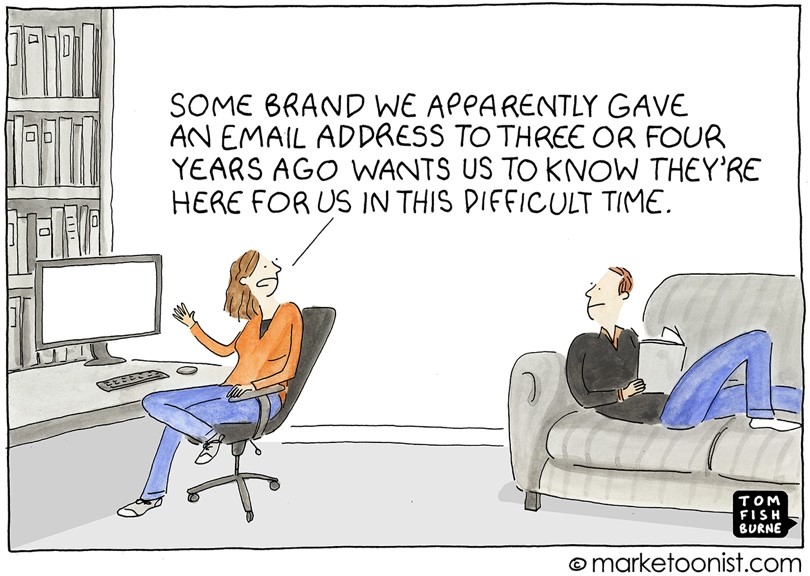 10.  Use the time now to plan for the future
Camilla Honey of new business consultancy JFDI once said "New business is like asparagus – you should have planted it two years ago." The pandemic will end. And you can plant the seeds of recovery now by addressing the following:
Positioning – Have you got a mission? Clear audience? Point of differentiation?
Strategy – What is your roadmap for growth? Do you have an effective sales machine?
Pipeline – Are you clear on what's in your pipeline? And how you're nurturing?
Website & Marketing Collateral – Is this up to date and reflective of your brand and mission?
Content – Do you have a clear content plan? Is it organised, proactive and generating leads?
KPIs – Are you clear on the numbers you need to hit? What activities do you do habitually?
CRM – Is it being used effectively to give you complete clarity on your sales effectiveness?
Register for our BIMA Hangouts Series here
Business
Client services
Leadership