The BIMA Awards 2023 shortlist has now been announced!
The BIMA Awards are the UK's longest standing and most esteemed accolades in the digital and tech industry. Every year, we ask big agencies and small, new or niche companies to submit their best work and show how they are making a difference in business, culture and society.
The BIMA Awards are not about the size of your agency or PR budget, nor about the sector, format, or channel. Instead, these awards champion originality, emphasizing the power of impact, innovation, and craft; and, in our commitment to addressing the climate crisis, this year we have introduced a new criteria for the judges: planet.
This year's entries have set an exceptionally high standard. The shortlist for all 25 categories was carefully curated by a panel of 177 exceptional judges, who dedicated their time and expertise across two rounds of judging sessions held in Manchester, Edinburgh, Bristol, and London.
A big thank you to all the entrants, our fantastic judges and the BIMA Awards Council for their continuing support in contributing to BIMA's success!
Congratulations to each and every one of you on the shortlist; you are all winners!
Join us at the BIMA Awards ceremony on Tuesday 21st November to find out whether you've been awarded Bronze, Silver, or Gold and in which category/ies. Celebrate with us, book your ticket HERE.
We're delighted to announce the BIMA Awards 2023 shortlist**.
*Please note, the projects are listed in alphabetical order.

878AD
Produced by Sugar Creative, Ubisoft, Hampshire Cultural Trust & Sarner for Hampshire Cultural Trust
Achieving Digital Greatness
Produced by Valtech for The National Trust
Aide Health
Produced by Aide Health for Aide Health
aiScout
Produced by ai.io for ai.io
Argos: Make Yourself, at Home
Produced by Ogilvy UK for Argos
BeatBlocks. Build music with bricks.
Produced by Playable Technology Limited for Creative Informatics
Better Health – Every Mind Matters
Produced by Paragon DCX for Department of Health & Social Care
BLUP X METALLICA:72 Seasons Album Launch
Produced by Studio BLUP for EMI, Metallica
Build the Block
Produced by This is Tommy for Binance Studio
Bringing digital brand equity to life
Produced by Workhouse Agency for Peldon Rose
Candyspace's culture transformation 2022
Produced by Candyspace for Candyspace
Concorder – A Fair Share of the Music
Produced by Else for Else
Creating the 'Biggest Hour for Earth'
Produced by WWF and EPAM Continuum for WWF
Data Escape Room Gamified Learning App
Produced by Aer Studios for The Data Escape Room
Design for Every Gamer
Produced by The Mill for Royal National Institute of Blind People (RNIB) and The&Partnership
Digital Museum of Learning
Produced by Athlon for Jacobs Foundation
Discovering London's Hidden Food Gems
Produced by Braidr for Clermont Hotel Group
Empowering Youth Voices on Sexual Health
Produced by 8 Million Stories for Sandyford NHS Clinic Glasgow
Fish & Chips Pizza Campaign
Produced by FINN Partners for Little Caesars
Fleet Dreams
Produced by TMW Unlimited for Alphabet
Heritage and innovation in equilibrium
Produced by Valtech for The National Trust
Herrmann and Whole Brain®Thinking
Produced by AND Digital for Herrmann
Illuminate the Future of Search
Produced by Luminr for Luminr
Instinctively – Live Better With Dementia
Produced by Else for Else
Just Plane Wrong
Produced by Yard Digital for Yard Digital
Launch of ITVX
Produced by Candyspace and ITV for ITV
Launching Urban Mobility Explained
Produced by Passion Digital for EIT Urban Mobility
Make a Material Difference
Produced by Think for EMERGE
Member of the Year
Produced by Thought Quarter for Thought Quarter
Mini Dogs Trust
Produced by Media.Monks for MINI
Obu: A disruptive, women-focused fintech
Produced by Distinction for Obu
Opening Balance
Produced by Liberty Marketing for Balance
Releasing Norton Genie
Produced by Else for Norton / Gen
Redesigning Superdry's mobile experience
Produced by LAB for Superdry
Revolutionising Mortgage Origination
Produced by AND Digital for Target Group
Roundhouse website and purchase path
Produced by After Digital for Roundhouse
Soap Codes
Produced by We Are Social for Activision Blizzard
Supercharge Organic Traffic
Produced by Fountain Partnership for ellaOne
Sustainability App
Produced by DRPG for DRPG
Take 5 to Stop Fraud
Produced by Four for UK Finance
Taking UKPN from monolithic to modern.
Produced by Tangent for UK Power Networks
The Datascape
Produced by 2LK for Intel
The FA England Football Learning Hub
Produced by Zone for The Football Association
The UK's hottest new design system
Produced by Kyan for ITVx
Thredd
Produced by Screenmedia for Thredd
User-centric digital transformation
Produced by TPXimpact for The Zoological Society London
UXR for Dodl by AJ Bell
Produced by hedgehog lab for AJ Bell
Virgin Active Global Member Experience
Produced by Future Platforms for Virgin Active (Global)
Visa Masters of Movement
Produced by Imagination for Visa
W3C website redesign
Produced by Studio 24 for W3C
What is your podcast personality?
Produced by 8 Million Stories for BBC World Service
World first composable commerce with MKM
Produced by Brave Bison for MKM Building Supplies
xDesign: Tech. People. Values. Growth.
Produced by xDesign for xDesign
Zillionaires' Club
Produced by AND Digital for Azzurri Group – Zizzi's
Zoteria
Produced by Potato for Vodafone Foundation
Celebrate with us in a room full of winners
If your entry is on the list, congratulations! We would like to invite you, your teams, and your clients, to celebrate at the BIMA Awards 2023 Ceremony on Tuesday 21 November at Proud Embankment, London, to find out whether you've won Bronze, Silver, or Gold, and in which category/ies.
It's going to be a night to remember and one of the biggest nights in the digital industry's calendar – don't miss out!
Book your tickets to the ceremony HERE.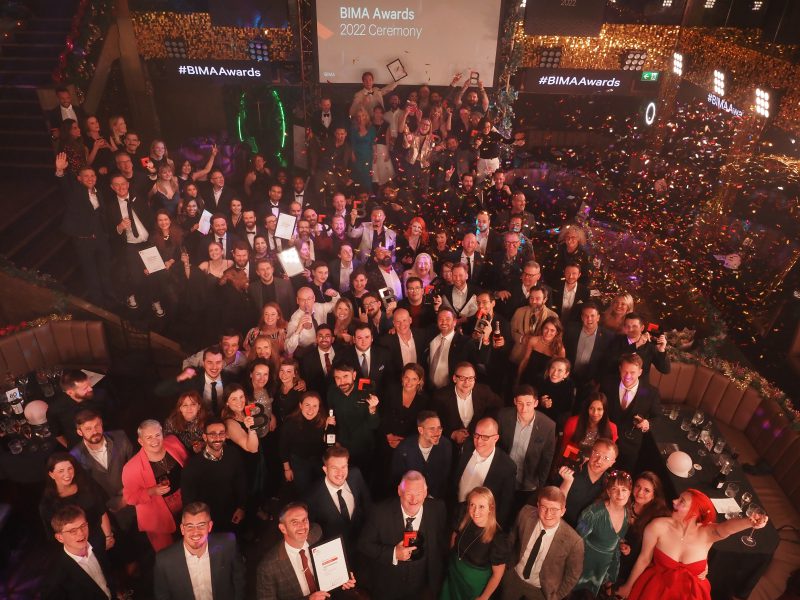 Thanks to our sponsors: