We are proud to say that we've won the award for the Best Cloud Solution at this years Umbraco Awards.
Each year, Umbraco host an event called Code Garden, where businesses and agencies from all over the world attend to learn more about one of the fastest-growing CMS's on the planet: Umbraco. At the 3 day event, there are a variety of talks and sessions covering a range of exciting and interesting topics, with the event building up to the climactic finish, the Umbraco Awards.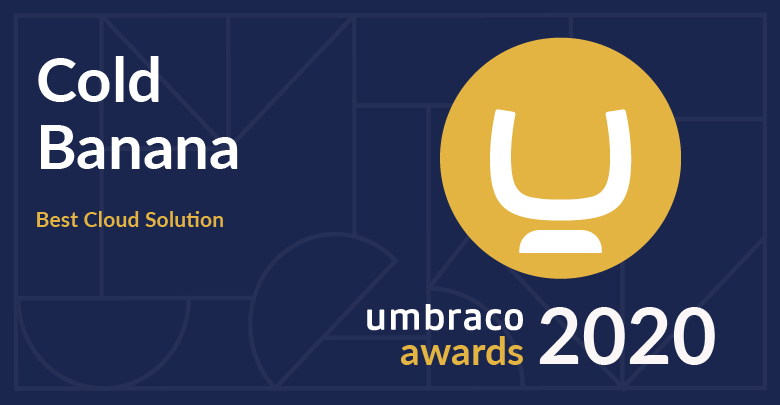 The Umbraco Awards are open to all businesses and agencies that have developed a solution based on the Umbraco CMS. There's no cost to entry, and the awards are open to any geography. Umbraco chooses to ensure there are as little barriers to entry as possible resulting in the best and brightest solutions being seen, celebrated and honoured. There are 4 categories to which businesses can enter. These are:
Best Cloud Solution
Best Custom Solution
Best Editing Experience
Best Designed Site

This year Umbraco was forced to do things a little differently with their annual CodeGarden event cancelled due to the impact we have all felt from the Coronavirus pandemic. Therefore, Umbraco announced that this year's awards would be moved online and would be broadcast via a live stream on Youtube.
Cold Banana was entered in 3 categories for our work with Imperial Brands: Best Cloud Solution; Best Custom Solution; Best Editing Experience. So, on Wednesday the 27th May 2020 at 15:00BST, every Cold Banana employee joined the Livestream in eager anticipation to see if we had been shortlisted, to see if we had won and to join in the celebration of the innovative and creative Umbraco solutions being used today.
Once the stream began and we were speaking to previous winners, we heard more about what the judges were looking for in the solutions presented. We were now underway, and the team at Cold Banana didn't have long to wait for the first bit of good news, we had been shortlisted for Umbraco's Best Editing experience. Despite everyone working from home, the power of technology helped everyone share in the experience with Whatsapp and Slack notifications flashing as everyone shared their excitement. Unfortunately, we didn't win that award but all were proud to be shortlisted with such incredible solutions.
Business
Content
Development
Talent
Tech